I created the entire concept for this suitcase-style product demo kit. I filled the role of the brand designer, marketing manager, production manager and inventory manager. The trays are foam wrapped in plastic to create a branded, curated experience for the customer and help the sales rep organize product for a perfect presentation. In addition, the product is organized according to Prevention, Intervention and Treatment to easily explain the brand pillar of "system of products", and how these products work together holistically to improve outcomes.
Medline Skin Health Skin Champion Program
Below is an orientation video that shows old designs for the Skin Champion Program. My project was to design and refresh the additional three modules in the program. This included presentations, bulletin board materials, tools like flashcards and booklets, tabs and boxes.


Medline ReNewal - Full Circle Reprocessing Demo Kit
I designed the Medline ReNewal demo kits for the Medline sales team. These are photos of a mockup I created of the actual demo kit in order to better sell the concept to the client. It was produced by Medline to help sales reps sell the Medline Reprocessing program, a collection and distribution system by which surgical instruments (such as the Harmonic Scalpel depicted in this example) are collected, resterilized and sold at a lower price.
Key points of the design include leveraging Medline Blue, ReNewal Green and adding a transitional nascent green to represent the three part system, finding an engaging way to show a three step process and using three stats to bring the messaging home.
Overs&Unders Campaign
Capezio is a dancewear company that came out with a sub-brand called Overs&Unders. For this campaign I art directed and managed the photoshoot and designed the ad.
Capezio Tights Ad
Capezio is a dancewear company. This is an ad for a revolutionary kind of dance tight. I scouted the location, art directed and managed the photoshoot and designed the ad.
Workforce Live! Events Brochure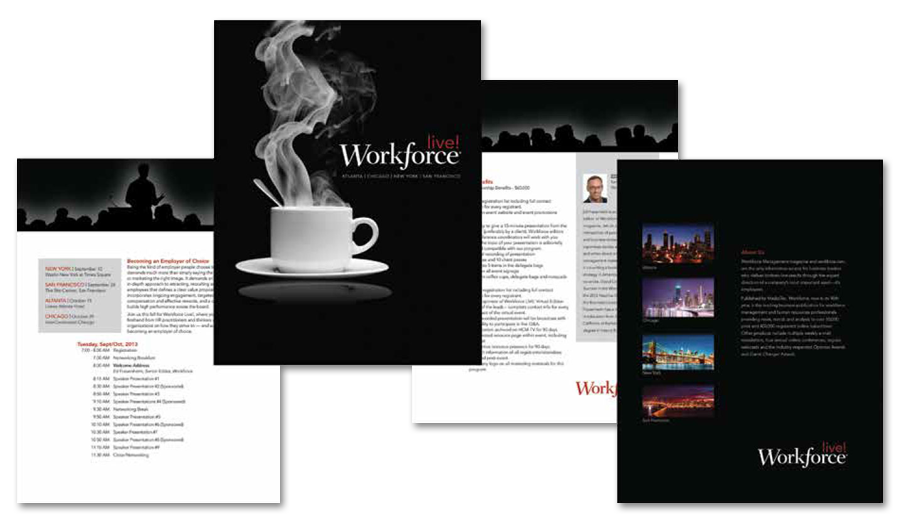 I created the logo and look for this campaign that launched live Workforce events in various cities for Human Resources professionals.
Workforce Live! Events Ad
This ad is part of the marketing campaign I created for the launch of live Workforce events in various cities.